CHEESE TORRELAREINA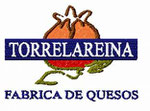 Since 1999, the family Ridao Belmonte is producing in their cheese factory located in Guillena, a town 20 km from Seville in Spain, in the Route de la Plata, the best artisanal cheeses "Torrelareina" produced with selected goats, sheep and cow milk.
They respect the most traditional recipes of their ancestors, as the grandparents had a farm and produced milk and his father founded his first cheese factory in 1975.
Currently they have the most recent technology, which ensures proper food safety and resulting in an unique product which is demanded increasingly by more customers, both domestic and international.
Our main goal is to produce cheese of excellent quality at very competitive prices.
We are very demanding with the selection of our raw milk and we only accept the best quality and freshness while trying to improve on the elaboration of our cheeses every day.